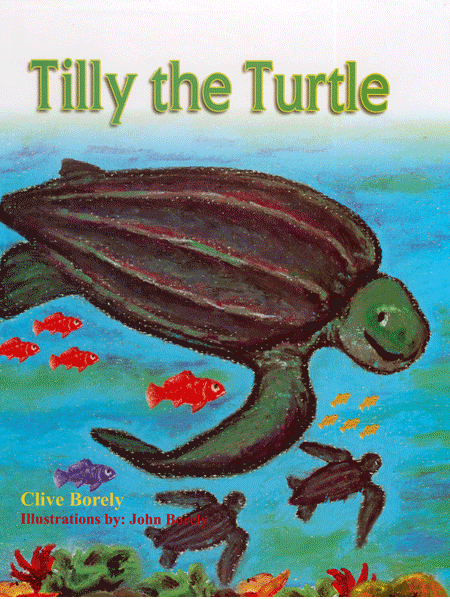 Tilly & Carlton
Two delightful stories for children about the importance of caring for the environment by the late educator, Clive Borely, illustrated by his son, John. Presented in a fun flip book format.
Carlton and the Dolphin
Alphonse and Carlton are the most skillful and adventurous fishermen in Pt. Cumana. After Alphonse is lost in a storm, Carlton, the more happy-go-lucky younger brother, takes up the responsibility of  providing for his mother. He becomes very hardworking and successful until he, too, is lost in a storm. He is knocked unconscious as a huge wave throws him from his seat, smashing his head against the side of the boat. When he awakes, the storm is over but he does not know where he is. There is no sign of land and he has no sense of direction.  A hungry dolphin appears at the side of the boat and Carlton, feeling sorry for it, gives it two small fishes that he had intended to eat.  The dolphin then leads him back to his home. But is it really a dolphin?
Tilly the Turtle
Tilly is a very old turtle who is preparing to make what she believes will be her final journey to lay her eggs on a beach in Trinidad.
She is accompanied on her long swim  across the Atlantic by a number of younger turtles whom Tilly entertains with stories of the old days, and whom she teaches some of the perils of the ocean.
When she nears her destination, Tilly instructs her  companions to remain in the safety of the deep waters while she swims to the shore to make her nest.  After laying her eggs she is discovered by a band of turtle hunters who try to kill her.  She escapes and the police arrest the
hunters. The eggs are dug up and placed in a protected part of the beach until they hatch. When the baby turtles are released into the sea, Tilly is waiting to greet them.
Editor, StarApple

Author

May 6, 2016

Date

books ,frontpage

Category

Children Dolphin Environment Turtle

Tags