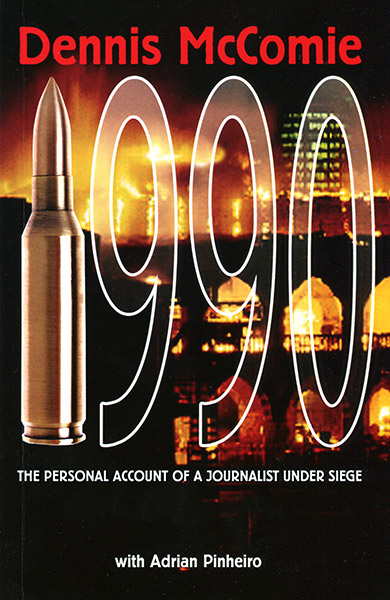 1990
1990: The personal account of a journalist under siege
A Nation's Conscience
Friday 27 July 1990, 6 p.m.
It's the end of the workday and Dennis McComie is in high spirits as he leaves the NBS studios for home and the start of his vacation. In a few days he will be off to England.
McComie had almost reached the corner of Hart and Abercromby Streets when he heard "popping sounds," akin to a display of fireworks, followed by a loud explosion coming from Police Headquarters on St. Vincent Street.
Around him there is pandemonium; people are scurrying past him, trying to get away.
Clearly this is not the typical Friday evening lime in Port of Spain. Something has gone terribly wrong. In that moment Trinidad as we knew it had changed.
1990: The Personal Account of a Journalist Under Siege recounts the at-times terrifying ordeal of a journalist who found himself at the centre of the lone functioning radio station during the attempted coup of 1990. The author recounts in some detail his interactions with the various actors of that event: the media, Abu Bakr, members of the Regiment and Police, ordinary men and women.
McComie's account is at times outrageous, his actions and opinions daring, scandalous, courageous. This memoir is uniquely personal. Yet at no time is the reader left in doubt as to the commitment and patriotism of the writer.
His is the voice that guided a confused nation through perhaps the most difficult time in its history. His steadfastness, and that of his colleagues in the media, helped to guide and inform the citizens of Trinidad and Tobago as they attempted to come to grips with the terror that had descended upon the island-nation.
1990: The Personal Account of a Journalist Under Siege should be read by all who are interested in understanding the history of T&T. It should be required reading for students of the nation, for the men and women who keep on asking themselves, "How did sweet T&T come to this? Where did we go wrong?"
THIS BOOK IS NOW OUT OF PRINT.
Editor, StarApple

Author

May 6, 2016

Date

books ,frontpage

Category

1990 Coup attempt Insurrection

Tags